EPIC Community Expo!
 Online form & logo must be receved by March 27th to be on the banner.
Space is Limited  -  First Come!!!
Vendor Pricing
Chamber Member - $75 (TO GET MEMBER PRICE YOU MUST LOGIN!!!)
Non-Chamber - $150
Non-Profit Organization - $50
Reserving a Booth -

Make sure to complete both steps
1. Fill out the application below and click "submit"
2. Click the "Register Today" button to pay for your booth.
Vender Rules
1)  Full Payment must be made to reserve your table. 
2)  Please Bring your own 8ft. table covering. Table and 2 chairs will be provided.
3)  Booth set up starts at 3:30pm and must be completed before 4:45pm.
4)  AFTER UNLOADING BOOTH SUPPLIES, PLEASE PARK AT TOWN HALL OR TOWN CENTER PARK (WALKING BRIDGE TO EVENT)!     
5)  You can not tear down until 7:00pm
6)  You may bring promotional items and door prizes if you wish to give out at your booth.
DISCLAIMER:
I do hereby release and discharge the Sunnyvale Chamber of Commerce, the Town of Sunnyvale and Sunnyvale Park Square, their officers, agents, servants and employees from any and all claims from injuries, damages or loss that I or anyone working in my booth may incur because of my participation in the Sunnyvale Chamber Business Expo.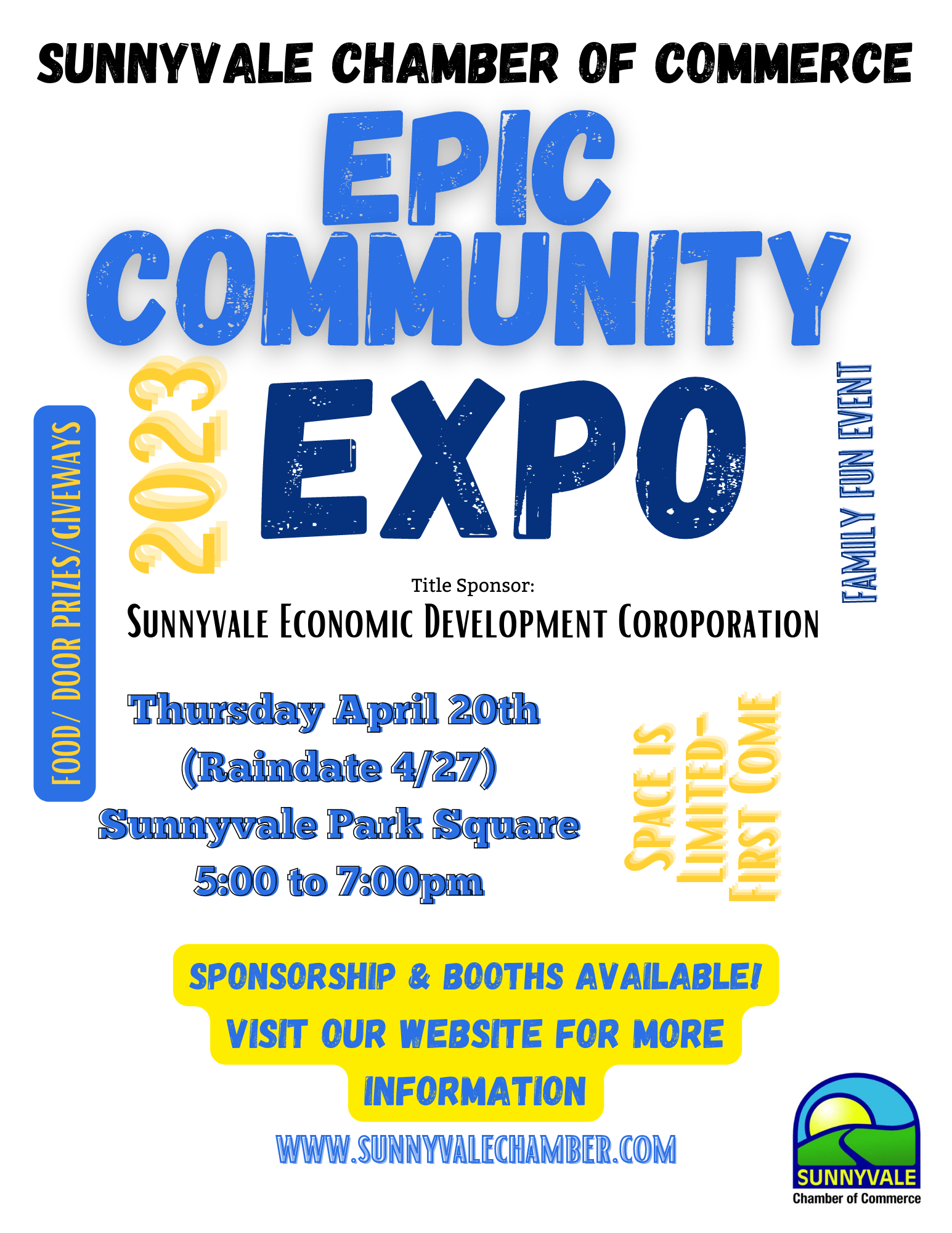 Details
CST
April 27, 2023 @ 5:00 pm
April 27, 2023 @ 7:00 pm
1. Vendor Booth - Non-profit Organizations - $50.00

January 23, 2023 @ 12:00 AM

April 18, 2023 @ 12:00 AM

2. Vendor Booth - Non-Chamber Members - $150.00

January 23, 2023 @ 12:00 AM

April 18, 2023 @ 12:00 AM

3. Vendor Booth - Chamber Members - $75.00

January 23, 2023 @ 12:00 AM

April 18, 2023 @ 12:00 AM
Organizer
Tammy Hawkes
Venue

129 N. Collins Rd, Sunnyvale, TX